The Lake County Municipal League (LCML) will host Bruce Rauner, Paul Vallas* and others in a candidate forum to review various issues, including those of municipal interest.
Saturday, October 11, 2014 – 8:30 a.m. – 10:30 a.m.

8:30 a.m. – Continental breakfast
9:00 a.m. – Forum
Part 1: A conversation with Bruce Rauner
Part 2: A conversation with Bob Dold
Part 3: A conversation with invited guest Brad Schneider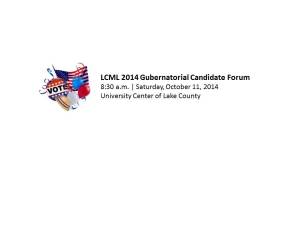 Part 4: A conversation with Paul Vallas*
University Center of Lake County
1200 University Center Dr, Grayslake, IL 60030
The forum provides an opportunity for Lake County to hear from the candidates, live and in person. Andrew Conneen, renowned civics teacher from Adlai E. Stevenson High School, will facilitate the forum.
This forum is free and open to the public. Seating is limited.
About the Lake County Municipal League
LCML is a nonpartisan council of nearly 40 cities and villages in Lake County dedicated to furthering excellence in municipal government through information sharing and networking, intergovernmental cooperation, and advocacy for the common interests of its membership.
*Due to scheduling conflicts Lt. Governor Candidate Paul Vallas will appear, not Governor Quinn.